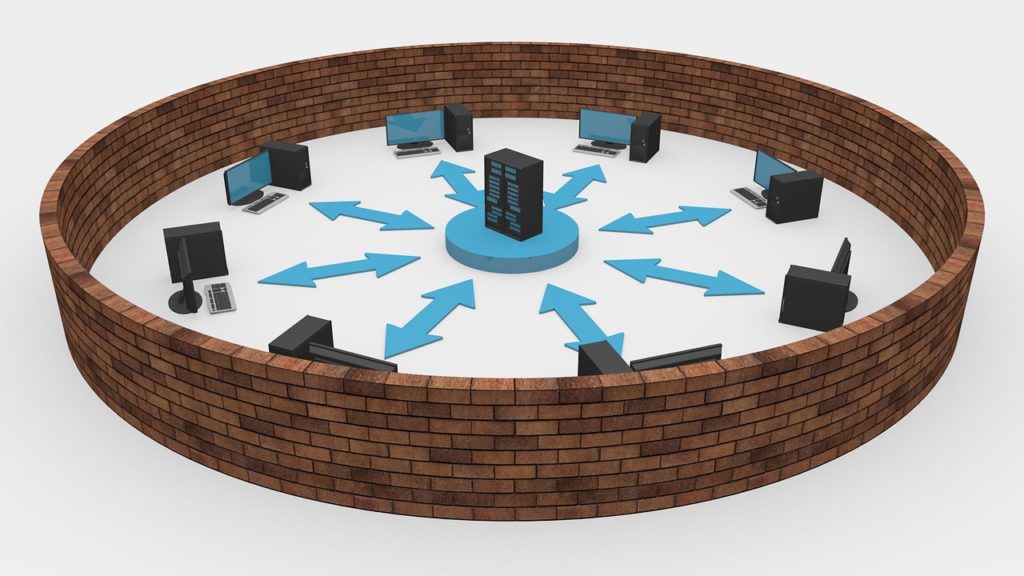 Choosing a firewall that has the features you need to protect your company from the onslaught of malicious hackers, malware, and viruses can be confusing and frustrating.
There are various types with various features and varying levels of security. Plus, choosing a firewall is heavily dependent on the size, scope, and scale of your particular organization.
To help you make your decision easier, we'll describe a few important features you should look for in a firewall, discuss the various sizes of firewalls to choose from, and then go over the three types of firewalls you're likely to encounter.
By the end of this article, you'll be better informed to choose the right firewall for your company.
Important Features to Consider When Choosing a Firewall
Since there are so many features packed into each and every firewall, here's a short list of some essentials that you should look for in the firewall you choose.
VPN
If you're trying to create a safe and secure infrastructure, then a VPN is critical to include with your firewall.
VPNs implement site-to-site encryption and anonymize your IP address so that hackers, governments, and even your ISP can only see that you connected to a VPN server – they won't know what you're looking at or what you're doing on the internet.
Built-in High Availability
This is the standard backup feature you'll need if you absolutely cannot risk losing your firewall. Basically, if your primary firewall shuts down for any reason, it will cut over to a secondary firewall which will resume operational capabilities.
This feature isn't too important if you're a small organization that can operate without a firewall for a short period of time while it's being restored.
However, if you're a large service provider with have hundreds or thousands of customers' data to protect, you'll need built-in high availability to prevent dangerous exposure if your primary firewall stops working.  
Packet Filtering
Packet filtering is commonly deployed in a small network by using a router that functions as a firewall to examine every packet of data passing through your network.
The major drawback is that it's very limited in its protection and cannot defend against attacks that use application layer vulnerabilities. It's best used by extremely small organizations with minimal network use.
Stateful Inspection
Stateful inspection operates deeply in the network layer of the OSI model.
This method analyzes the packet headers and inspects the content of the packets themselves for more thorough protection. This is a very effective feature that any SMB should look for in their firewall.
Proxy Server
A proxy server changes your IP address and masks the origin of your network traffic by acting as an intermediary between your computer and the internet.
While a VPN encrypts all traffic that passes through its server, a proxy simply encrypts your IP and can handle tens of thousands of simultaneous connections.
A VPN is a higher-security better option if you can afford it, but a proxy server will provide satisfactory privacy for a company on a tight budget – and both can be used together for extra security.
Size and Scope Considerations When Choosing a Firewall
Before choosing a firewall, you should know how many people will be using your firewall, and how large you expect your organization to grow in the near term. This will help you decide on how complex your firewall system needs to be.
Here are three systems you can choose from depending on the size and scope of your company:
Host-Based Firewall
Host-based firewalls are programs that protect a single computer and can only operate on a computer-to-computer basis. Each separate system would have to have its own host-based firewall.
They are simple, low-cost, and flexible, but still highly vulnerable – offering minimum protection from cyber security threats.
Network Firewall
Network firewalls are designed to protect multiple computers simultaneously and are much harder to penetrate because they are on a separate system from the host.
Since malicious traffic will have to pass through the network to get to the host computer, a network firewall can effectively detect and deter malware and viruses from gaining entry.
Enterprise Firewall
Enterprise firewalls are designed for businesses with complex networks and a lot of users.
Typically, they automatically incorporate VPN pathways, built-in high-availability, and have the most sophisticated monitoring and reporting systems.
They are easily the most expensive solutions but offer the highest amount of protection.
The 3 Types of Firewall to Choose From
Now that you have an idea of the size of your firewall, and the features you'll want to consider, you need to decide on how the firewall is implemented.
Below are the three major methods of firewall deployment:
Software Firewall
Software firewalls are most commonly installed on personal computers or computers with light network use. They will block known malware, trojans, viruses, and other dangerous activity.
Unfortunately, data packets are allowed to pass through your network switch and router before the software can scan it. By that time, malicious software could already be on your hard drive.
This is not the ideal solution for a company protecting a lot of sensitive data.   
Hardware Firewall
Hardware firewalls are installed behind your router so that they can scan every single data packet coming from the Internet. They use "intelligent" functions to detect and recognize unknown or new viruses and malware by analyzing huge datasets and identifying irregular activity.
Hardware firewalls are designed as "turn-key" systems that have pre-installed software, and once set up, can provide 24/7 protection.
The two major problems with hardware firewalls are that they need to be constantly updated, and if you want higher bandwidth, you'll have to pay for new systems and installation – which can be time-consuming and costly.
Cloud Firewall
Cloud firewalls are somewhat of a hybrid between software and hardware with the added benefit of low-cost maintenance.
Hardware is installed on your network, but the firewall itself is managed remotely by the cyber security professionals of the vendor you choose. All of your updates can be handled off-site automatically, and you can easily scale your systems to meet the demands of a growing company.
The disadvantage of a cloud firewall is negotiating a secure and beneficial Service Level Agreement (SLA) that stipulates a 99.99% availability and responsiveness that matches international SOC standards.
Choosing a Firewall that Delivers Everything You Need
The right firewall for your company is the one that matches your current requirements and can handle most future needs.
Enterprise firewalls are very expensive, and most SMB's don't require that level of protection, but if you have a massive network and a lot of data to protect, it's your best option.
For an SMB on a budget, a high-performance network firewall can meet your demands.
If you can't afford on-site maintenance and mostly work with remote employees, a cloud firewall solution should provide all the protection you require.
And for companies with a low-traffic website and network, a software firewall will be sufficient in keeping you safe and secure.
Choosing a Firewall is Only Half the Battle
If you want to create a well-rounded and impenetrable IT security system, then you'll want to install numerous other security measures such as Intrusion Detection Systems (IDS) and Intrusion Prevention Systems (IPS).
These systems, combined with your firewall, will provide the most protection possible.
But you'll need the help of seasoned IT professionals if you want that level of state of the art security…
After Choosing a Firewall, Upgrade and Optimize the Rest of Your IT Security
We can help you implement your firewall and other network security measures to maximize your IT security and fully protect your data. Your systems will be able to identify and respond to threats faster, optimize the speed and uptime of your software, and provide proactive threat response through real-time monitoring.
Contact us today for your free consultation!