Improve communication speeds, enhance productivity, and maximize security with scalable, tailored network solutions.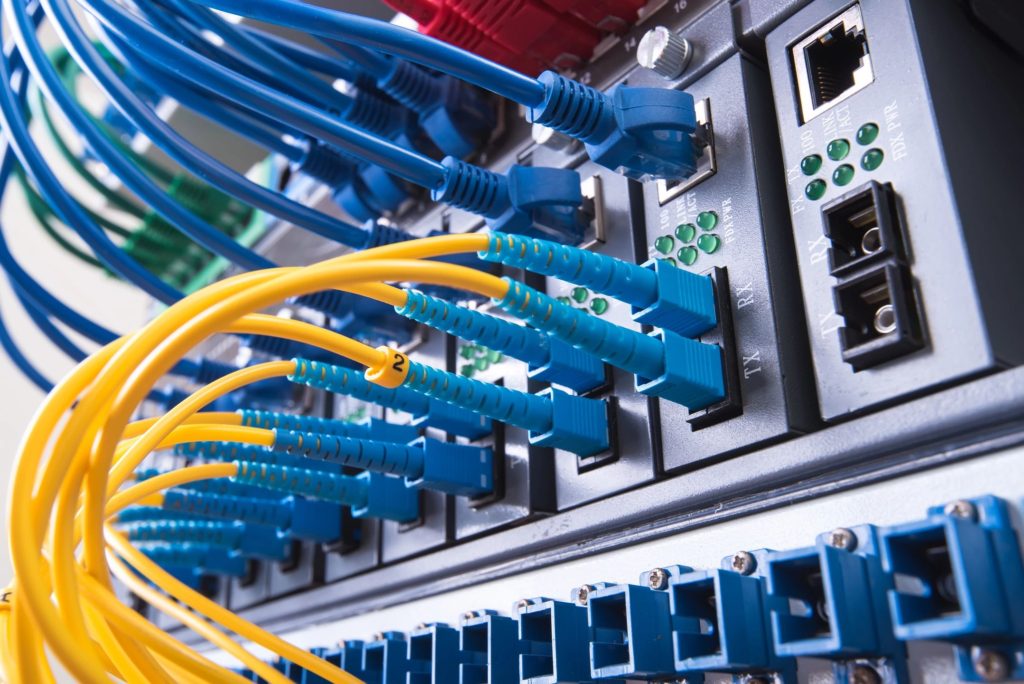 Few networking providers are able to cover the full spectrum of networking requirements from simple installation of cabling and appliances through design, procurement, and support for structured networks of any size and topography.
Whether your slow network speeds are hampering productivity, you're looking to enhance security, or you need to scale your networks to match business growth, our networking consultants can help.
Through our comprehensive set of Network Management Services, we offer a range of enterprise-grade networking solutions from design and implementation to remote NOC and ethernet private lines – providing the simplicity, time-savings, cost economies, performance enhancement and increased security benefits that only the combination of a highly-skilled vendor and well-crafted networks can deliver.
Our Network Management Services
Network Design and Implementation
Your network is the backbone of your productivity – which is why it's essential to ensure it's optimized for peak performance at minimal ongoing expense.
You need a network solution that consistently delivers, but navigating the complexities of designing and implementing secure, efficient local and wide area networks requires both a thorough understanding of your business and technical expertise.
That's why we offer a complete set of enterprise-grade Network Design and Implementation Services, utilizing industry leading vendors like Cisco and Juniper, as well as state-of-the-art technologies including FTTx, MPLS/VPN, and LAN/CAN/MAN/WAN to ensure your networks are secure and highly functional with an eye on effectively managing your IT investments and ongoing costs.
Key Features
Network infrastructure performance analysis

to identify key areas for performance and security improvement.

Network design recommendations

to propose a tailored mix of upgrades and refinements and chart the ideal network architecture for your company.

Implementation support

to quickly and cost-effectively implement new hardware and systems with minimal interruption to your day to day operations.
Network Monitoring and Remote NOC
As your company grows, so do the expectations and demands for network performance.
While it's cost ineffective to have on-site support from an engineer to manage your networks 24/7, modern cloud technologies allow for constant remote monitoring and maintenance of your critical network functions without the need for perpetually present local support.
Through our scalable and customizable Network Monitoring and Remote NOC Services, our consultants will identify network issues before they become larger problems and alert you or take corrective action depending on your service preferences to ensure your network is reliable and available on a budget that works for your business.
Key Features
Network bandwidth optimization

to maintain security and peak performance.

Comprehensive reporting

to keep costs under control and alert you to potential breakdowns.

Tailored methodologies

to provide the exact level of support you require to meet your performance and budget needs.
Ethernet Private Lines
Modern businesses run on data, and securing that data while maintaining network performance has become a critical concern for maintaining competitive advantage and peak productivity.
Ethernet Private Lines (EPLs) enable your business to quickly and securely transport information between locations by bypassing public networks through dedicated point-to-point connections.
Through our Ethernet Private Line Services, you'll get the peace of mind that comes from greater security and transmission integrity, along with the productivity, reliability, and flexibility benefits that come with all of our tailored network solutions.
Key Features
Secure point-to-point connections

to ensure your critical business data remains protected.

Global and local implementations

to connect offices and data centers anywhere in the world.

Dedicated connections and tailored architectures

to create high-performance, high-reliability networks.
Want to Learn More?
Contact us today for your free consultation and we'll show you how our tailored mix of Network Management Services can meet your business needs.